Symposium 9. – 10.12. 2015
Exhibition 9.12. 2015 – 10.01.2016
The "Prototype Nature" symposium was initiated by the Fraunhofer UMSICHT Oberhausen and the Folkwang University of the Arts Essen, in order to learn from the enormous diversity of nature and to ascertain how this knowledge can help meet the challenges of the today's world. How should our coexistence look like? What roles can nature take to act as a model in this process?
There exist various disciplines in science that deal with the use of nature while taking different perspectives. It is the intention of "Prototype Nature" that different approaches of using nature be brought together to encounter, complement, and come into conflict with each other. The characteristic feature is that all research fields dealing with the utilisation of nature pursue interdisciplinary approaches.
From biologists, geologists, mathematicians, physicists via sociologists, historians, philosophers through to engineers and designers – all are involved in different approaches to utilisation of nature.  "Prototype Nature" aims to encourage the discourse of a wide range of disciplines,  taking into account diverse motives, goals and insights. What knowledge exists to use nature based on fundamental scientific research
and on the analytical observation of social sciences and humanities? Who uses this knowledge and how can it be integrated into our coexistence and used either today or in the future?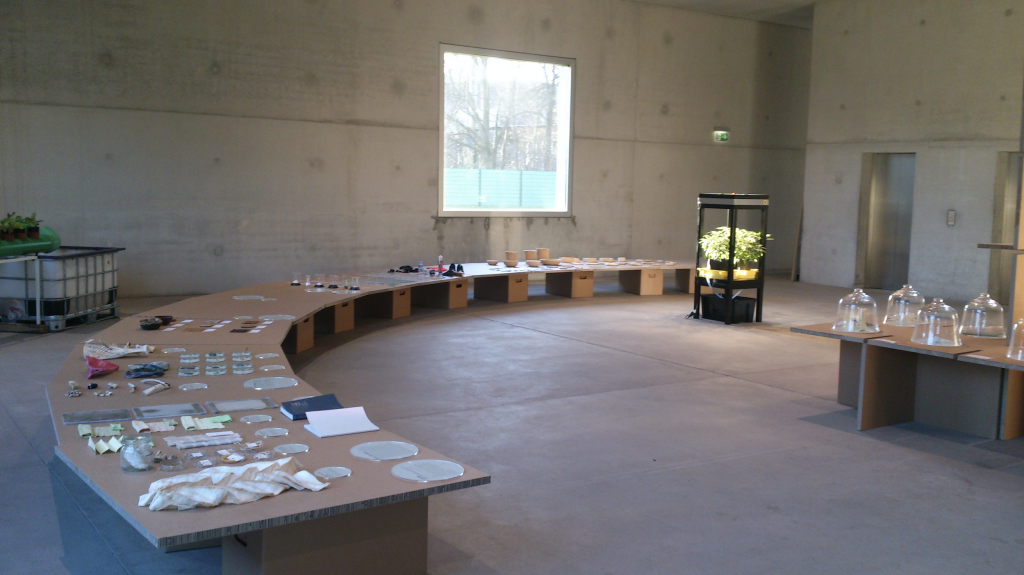 BIOMAS(S)TERPLAN
BIOFACTION's exhibition entry BIOMAS(S)TERPLAN offered an insight into the standardisation methods of biomass processing in the industrial world.
Biomass presents an alternative source over fossil fuel for the production of various products. Biomass resources include agricultural and forest residues, energy crops, livestock residues as well as municipal solid waste. The masterplan of the bioeconomy aims to convert these biomass resources into standardized and basic compounds (similar to basic ingredients of a cooking recipe) to then transformed them into more specific elements for the final synthesis of a wide array of household or industrial products.
Tracing back standardised elements contained in everyday products such as food packaging, cosmetics, adhesives and detergents, this exhibit uncovers the manifold processes, compounds and products of the bioeconomy.
(Source Flow Chart: U.S. Department of Energy, Energy Efficiency and Renewable Energy 2004)