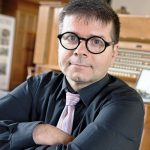 Saturday 9th December, BBC 3 covered the works of our artist in residence Eduardo R. Miranda. Eduardo spent a few weeks as artist in residence of the EU SYNPETIDE project that aimed to design novel synthetic antibiotics. At the University of Regensburg, one of the partners in SYNPEPTIDE, Eduardo developed a series of musical antibiotics, called ARTIBOTICS, based on an information processing method that uses real DNA information from antibiotic peptides and that are transformed into a series of short musical pieces.
Have your say! Listen to all ARTIBIOTICS and rate them!
Listen to the BBC 3 episode (go to minute 33 directly or click DNA Music).